The Holiday Season Glow Up
Create joy with the gift of happy, healthy and radiant skin. Spoil yourself or someone else with the perfect routines, whatever the occasion. Light up their whole year with our must-have offers, limited editions and sets for everyone on your list.
A special gift for that special someone SLEEP • CALMING • NOURISHING • DUO SET
Save 15% when purchasing this set
This set contains the Dreamy Pillow Mist 30ml and the Bottom Up Foot Cream 100ml
Unwrap the ultimate wind-down ritual for a good night's sleep. Balancing your mind and body, Le Good Night Kit imparts optimum relief from your day. Your mind is relaxed from the aromatherapy powers of Ofa Karri's Dreamy Pillow mist and your feet comforted with the Bottom Up Foot Cream by KOBA skincare.
SHOP NOW




The Edges Collection - Limited Edition
£72
DRY SKIN • HYDRATING • FEET/HANDS/LIPS
Save 30% when purchasing this set
Our cult favourites bundled together to care for the driest parts, the parts most exposed; your hands, lips and feet. Three moisturising products that deliver a targeted, simple and effective routine to achieve lasting comfort and hydration. Fine textures, ingredients powered by nature and delicate fragrances that give your Edges some much needed TLC.
SHOP NOW



The Instant Hydration Set
£68
DRY SKIN • LASTING HYDRATION • BODY
Save 20% when purchasing this set
This set contains the Milk It Body Lotion 200ml, the Soak Me Up Soap Bar 150g and the Gimme Glow Dry Brush.
For the person who is always on the move. This trio delivers the burst of hydration your skin needs to last you through the day. A simple routine to energise, cleanse, replenish, and protect thirsty skin. This routine gently exfoliates and smooths rough and bumpy skin. Your body is cloaked in a silken veil, offering added protection against moisture-loss caused by external aggressors. Quench and recharge thirsty skin with this simple and effortless daily body care regimen.
SHOP NOW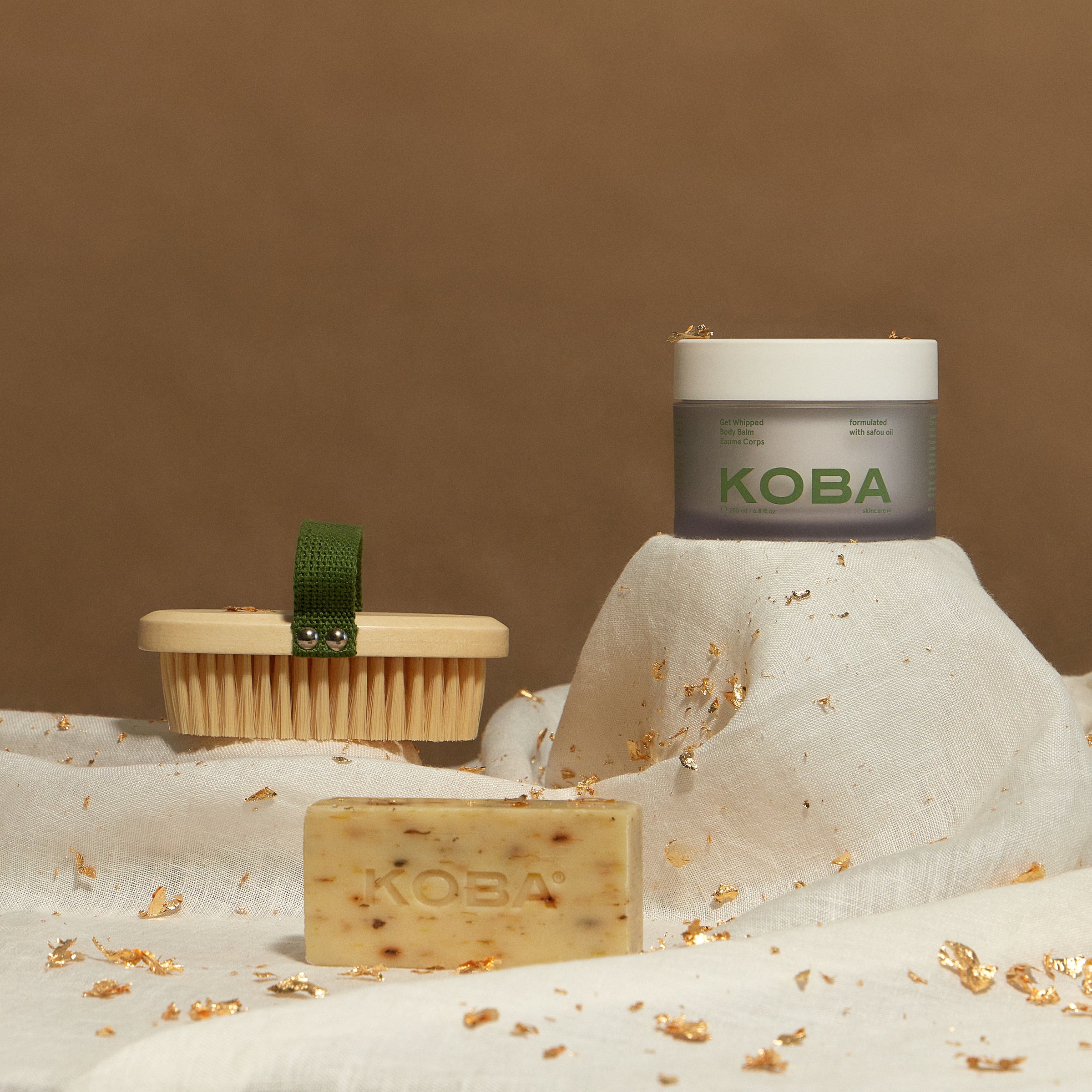 The Deep
Hydration Set
£92
VERY DRY SKIN • DEEP HYDRATION • BODY
Save 20% when purchasing this set
This set contains the Get Whipped Body Balm 200ml, the Soak Me Up Soap Bar 150g and the Gimme Glow Dry Brush.
Embody the KOBA deep conditioning experience with this dynamic three-step ritual. For the person who loves to indulge in self-care, this trio works in harmony so your skin can absorb the essential nutrients it needs to transform and firm, while minimising the appearance of cellulite. Texture, elasticity and radiance is restored to reveal cleaner, smoother and toned skin.
SHOP NOW
What Customers Are Saying
Want to know more about what our customers love about our products? Discover (glowing) testimonials from KOBA fans and their experiences. Don't just take our word for it…
SEE ALL REVIEWS
The Get Whipped Body Balm is one of the most lightweight and creamy body balms I've used. It smells wonderful and keeps my skin shiny and moisturized for the whole day. And because it is lightweight, it does not feel heavy and sticky like other similar body balms. I recommend this for any and all skin types!

Using a soap bar over liquid soap in a plastic container just feels right with global warming on the agenda. This soap delivers on all fronts. It smells delicious, lathers beautifully and looks good on the sink. More importantly, it's kind to the skin, cleansing but not drying it. Love it.

I use this lotion on my legs, feet and hands and it's amazing at locking in moisture, especially during these critical dry Fall/Winter months. Plus it's so elegantly packed - I keep it on my work desk as a chic accessory!